Lumiere Tintype
AUSTIN, TX
Interview and Photography by Chris Phelps
Lumiere Tintype is a mobile tintype photo booth owned and operated by Adrian Whipp. He is currently based in Austin, TX and operates from Justine's Brasserie. We caught up with Adrian at his photo booth and talked about living in Austin, photography, the creative process, and staying inspired.
Chris Phelps (CP): Tell us a little bit about yourself and how you got involved with photography?
Adrian Whipp (AW): I grew up in England, shooting what was around me, punk shows, bmx, friends, girlfriends etc. The usual stuff. I was lucky enough to be educated in a darkroom, which seems archaic now but certainly helped romanticize photography for me, and cement my addiction to it.
CP: How did you end up in Austin? What has the reception been like here?
AW: I first traveled here 10 years ago, on something of a whim, and met my wife within the first few weeks. I was immediately attracted to the creative atmosphere here, the weather, the food, the laid-back people. It took me a few years to figure out how I fit into to the city, and what I could offer to it, but I'm starting to find my groove. It's been a great town to try something new and creative, people are endlessly supportive.
CP: Tell us a little bit about the mobile photo booth. How did you came up with the idea? How has it evolved?
AW: I was shooting tintypes from a home studio for a while, but it's such a niche product that I was having to market it relentlessly. The idea for the traveling studio is nothing new, I figured that's how the American public was first introduced to the concept of photography 160 years ago. The timing seemed right, everyone has a camera these days but very few photographs actually exist. I had a hunch that if someone walked into the studio, saw the images on the wall, they would be captivated by them and want one of their own. So far, so good.
CP: Have you always experimented with alternative/historical processes, or is it something you got interested along the way?
AW: I had the chance to play with some basic alternative processes in school, but nothing too exotic. I had always had an interest in tintypes though, mainly through the work (and life) of John Coffer. It took me a long time to pick up the chemistry though, the cost of entry is pretty high, and the learning curve is steep. Eventually I realized I wasn't getting any younger, and I needed to give it a shot. It took months and months to get any decent images, but the process is addictive, so I was hooked.
CP: Do you work with digital as well, or do you prefer working with analog processes?
AW: Photography is photography, I love all of it. I always have two cameras with me at all times, one digital, one medium format film. I think I prefer analog processes, but that is a reflection of my hands-on personality.
CP: Where does digital fit into the world these days? By the same token, where does analog fit in? Do each have their place, and why or why not?
From a workflow standpoint, digital just makes sense. Work faster, smarter, with sophisticated technology to take better pictures with less risk of failure. It's a no-brainer. However, analog art forms will never die out completely - there's just something undeniably human about crafting something with your own hands, having the patience to hit the shutter less, and to surrender your images to random chance and the unpredictable nature of chemistry. There will always be a place for that. Look at tintype, it's 150 years old and it's still going strong. I think we are starting to see the rapid decline of analog photography plateau out into a comfortable place. Of course, it looks bleak when an enormous entity like Kodak goes belly up - it's just not sustainable anymore, but that doesn't mean new forms of analog imaging can't spring up; leaner entities like 'The Impossible Project' or 'New55' making film in smaller batches.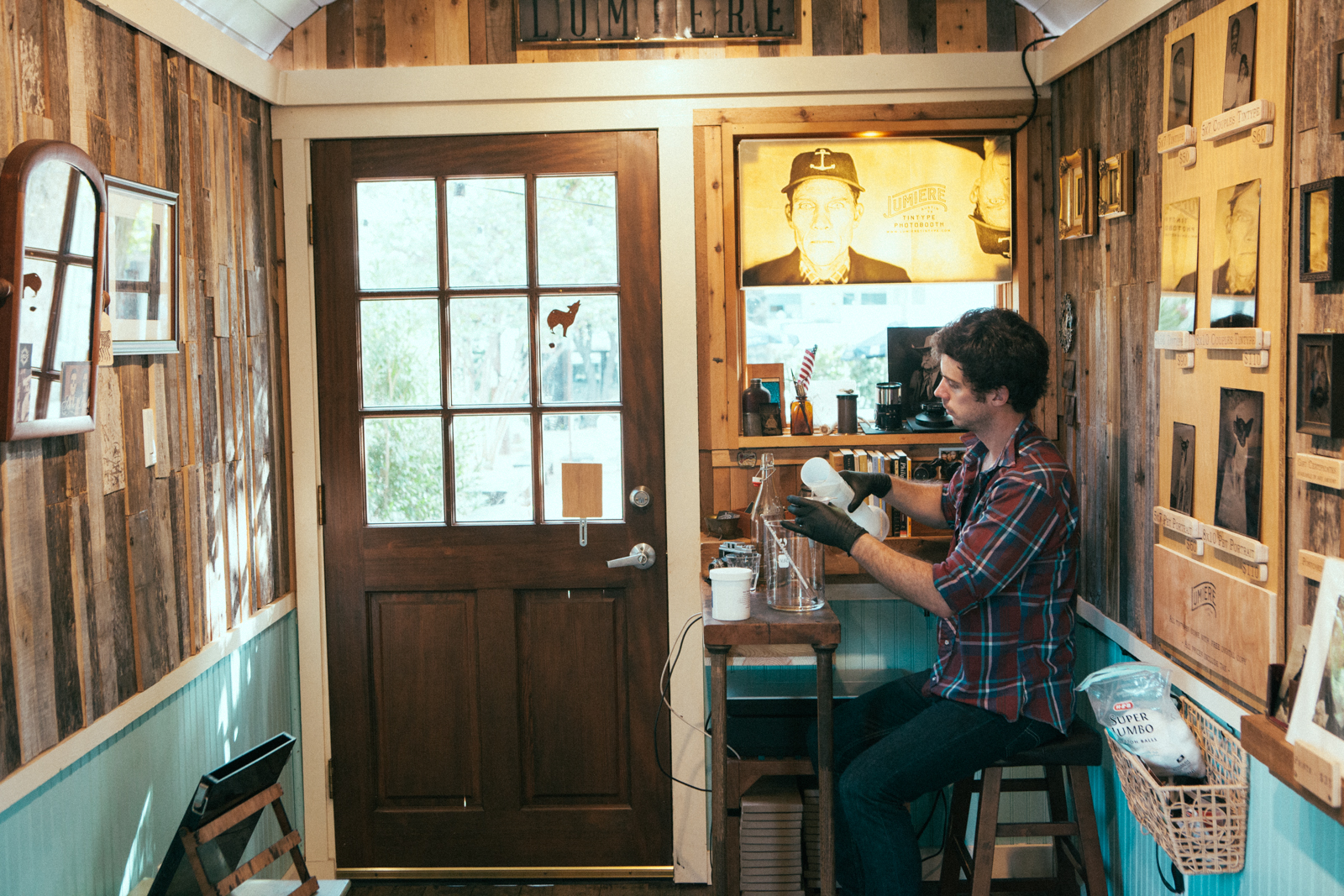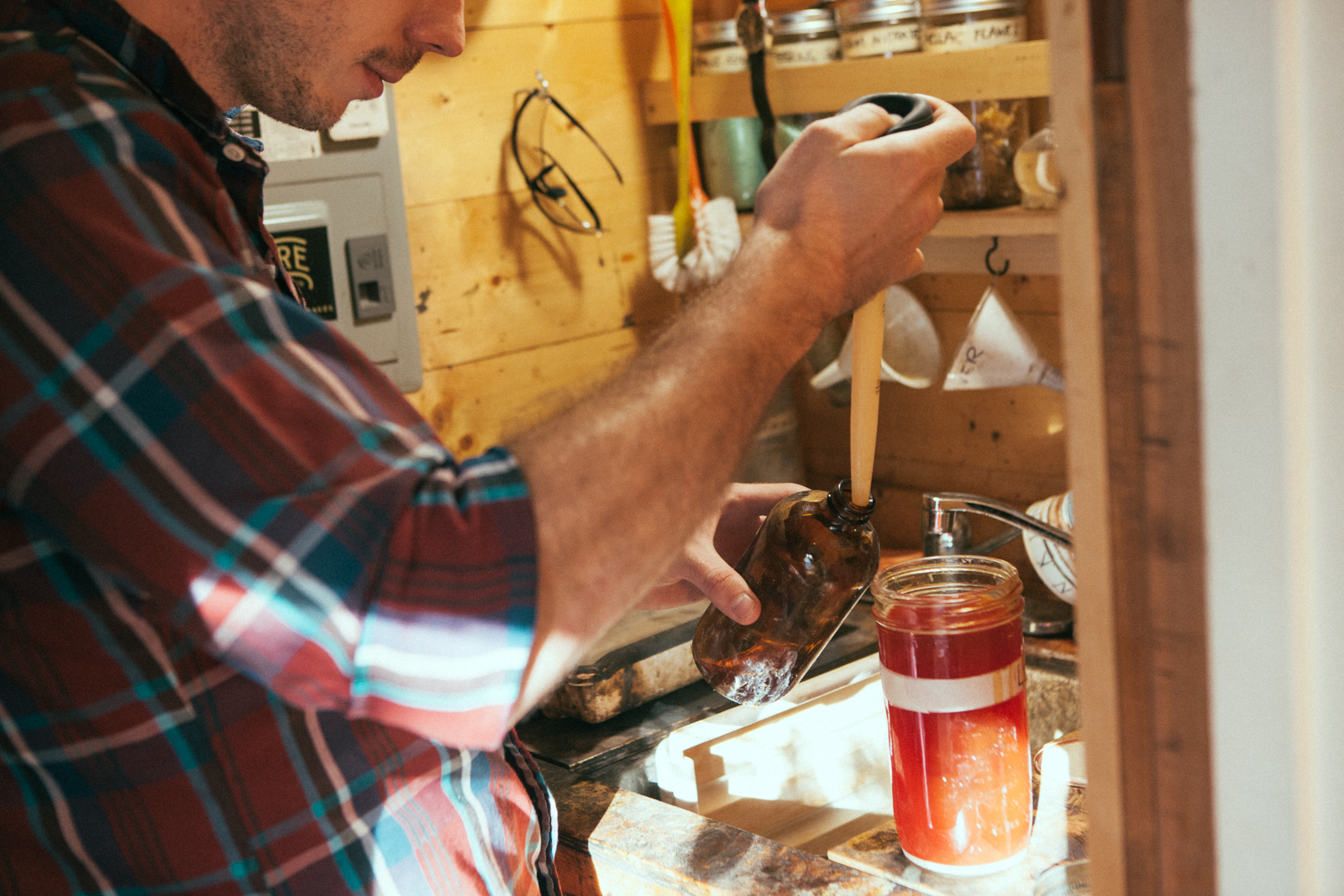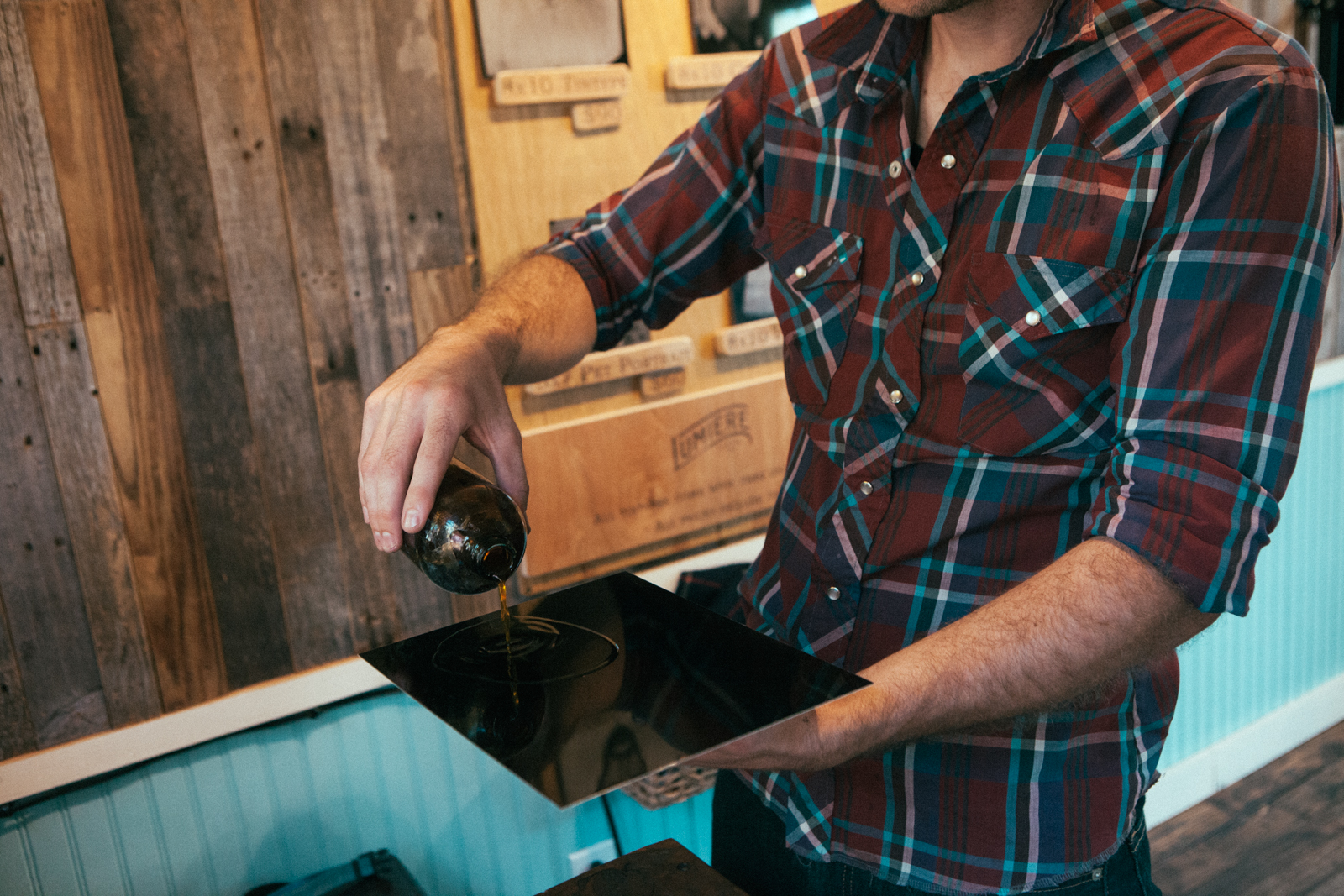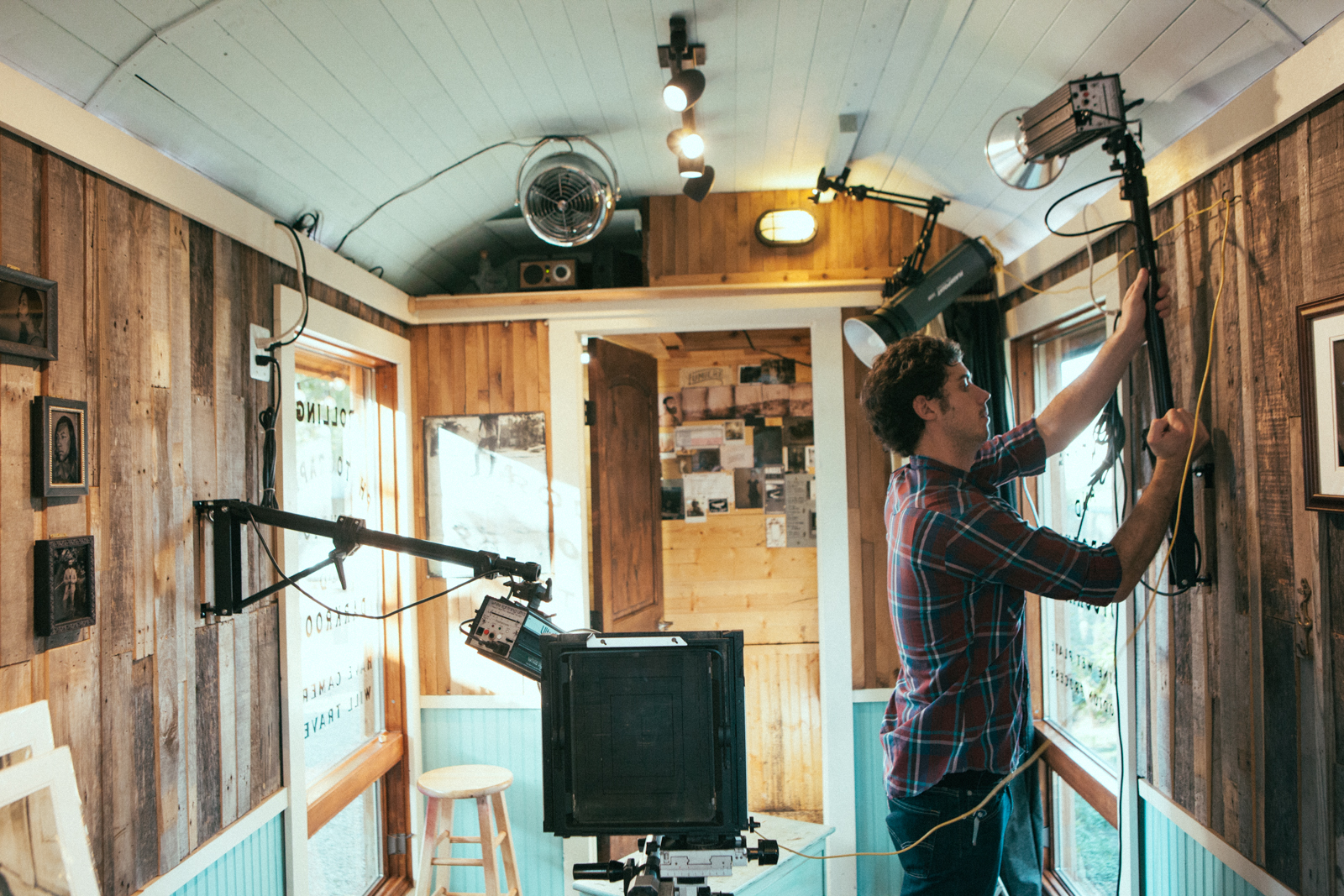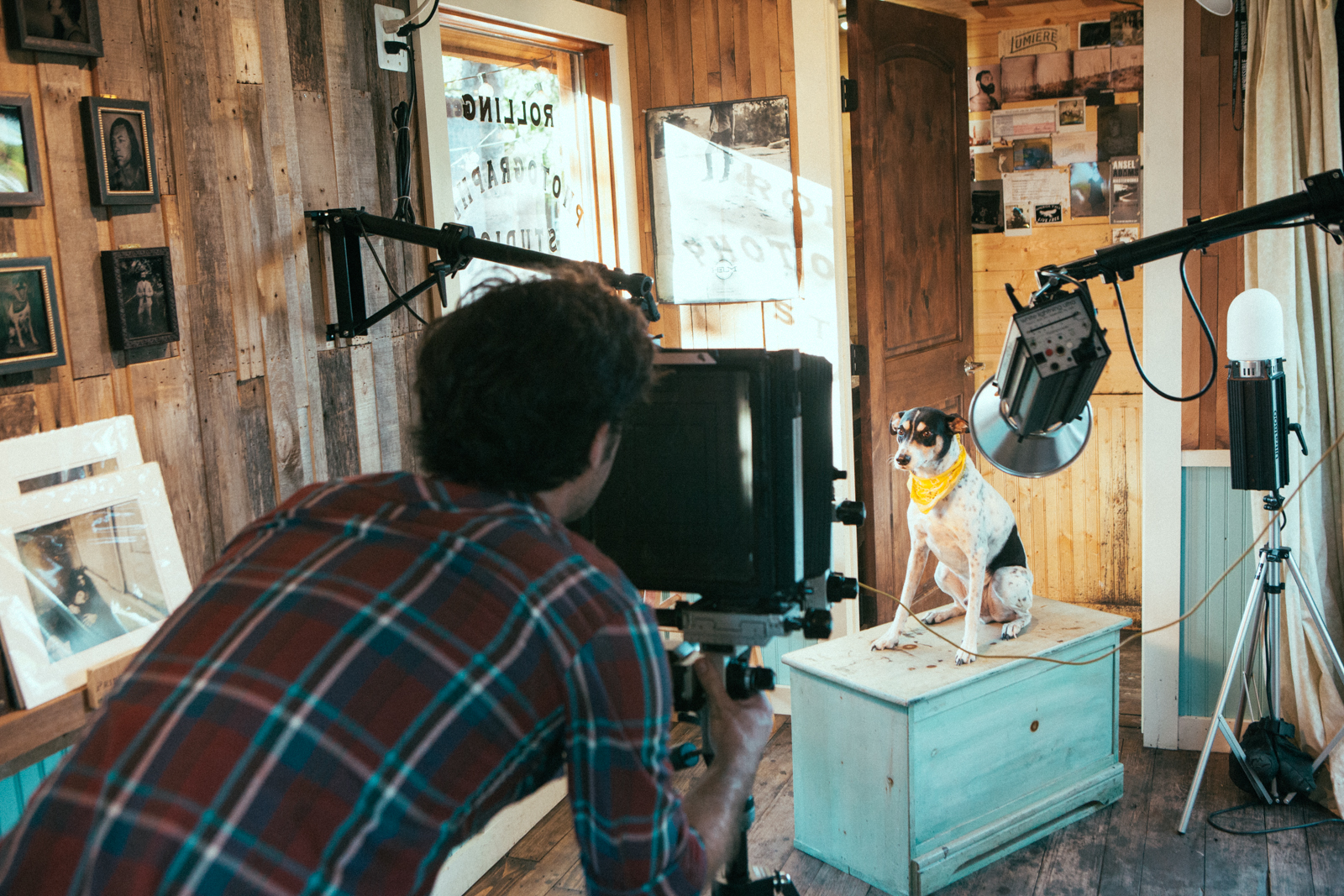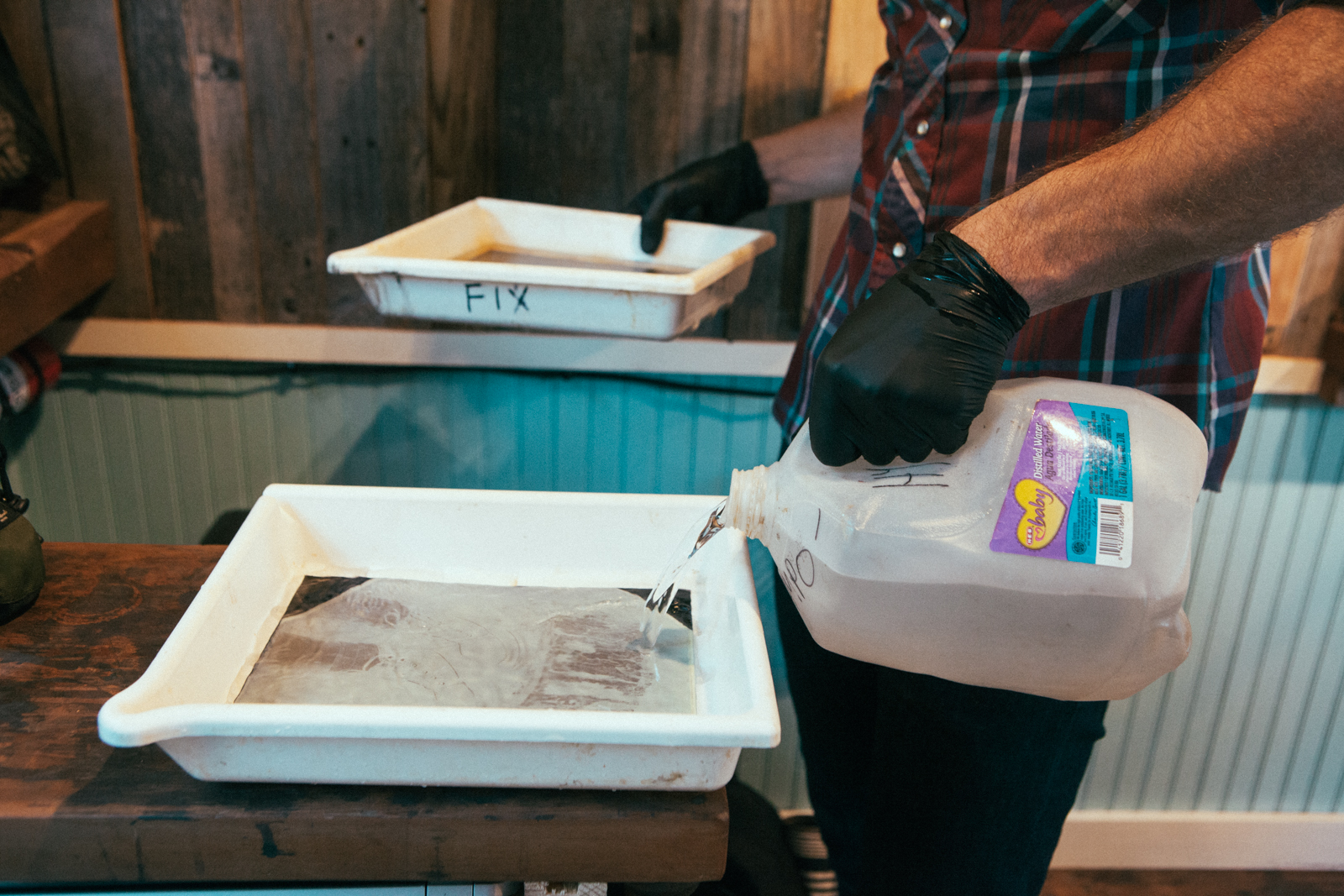 CP: How do you balance making personal work with running the photo booth, or have they become one and the same?
AW: Every time I feel creatively limited by the small size of the booth, or tired of taking headshots, someone walks in with an incredible face, story, or a concept that I would never have had the chance to photograph if left to my own devices. Interestingly, that stretches my skills far more than when I am out scouting for personal projects. I try to make time for my own work though, usually a multitude of slow burning projects that I get to work on on my free days.
CP: Do you get hired for commercial work as well? Has the photo booth helped your exposure?
AW: Yes, we do lots of fashion shoots, photographs of musicians, artists, etc. The photobooth undoubtedly helps market this. I'm in a rare situation for a photographer - I'm in one place 40 hours a week, so folks can stop by and discuss concepts with me. People walk in all the time, see what's on the wall, and you can watch the gears turning as they figure out how to incorporate what we do into their own creative projects.
CP: What photographers inspire you?
AW: It changes daily, but right now; Pawel Smialek, Dan Winters, Gregory Heisler, Alain Laboile, Pentti Sammallahti, Giles Clement. Hit up the Encyclopedia Googlicia for more info on those chaps.
CP: What other creatives inspire you?
AW: I have had a least 3 separate conversations recently with people that make experimental 8mm and 16mm films. Those guys really have it rough, developing hundreds of feet of celluloid in bathtubs, then, assuming you didn't screw up the footage, figuring out how to digitize it all. The results are incredible, it's been years since I ran a reel through my 8mm camera, but I've gotten the itch again.
CP: Do you find inspiration in any other places?
AW: Things just come to mind at pretty random intervals, I keep a notebook to scrawl in if an idea seems to have merit. It's usually a long time until it comes to fruition, but I think that may be the nature of the creative process.
CP: Tell us a little bit about your creative process. How do you go about starting a new project?
AW: It usually starts with the aforementioned notebook. Then some reels of 35mm to test things out. I like the tintype process because of it's immediacy - I can photograph a concept and see the results within 5 minutes. That feedback is really important in finding out whether or not an idea is worth pursuing.
CP: If you could make a portrait of anyone living or dead who would it be?
AW: I would love to have made a portrait of Christopher Hitchens before he died. Like, right before he died. His book 'Mortality' is such an unflinching exploration of our relationship to death, and I figured a portrait to accompany it would have been incredible. As far as the living, I would love to make tintype portraits of my parents. They are both back in England, and while I photograph them endlessly on film and digital when I visit, they haven't been to the US in a while, so I haven't been able to photograph them on tin. (Which is my preferred medium for portraits). Hopefully I'll get to shoot these within the next year!
CP: Do you seek out collaborations or do you prefer to work alone?
AW: It depends on the collaborator, but you really can't beat working with someone else. More creative input is usually a good thing. I have no eye for style either, so I love having stylists on shoots.
CP: Do you have a dream project, client, collaboration?
AW: I would actually much rather assist someone who I admire, soak up their knowledge. Dan Winters, you know where to find me.
CP: What challenges do you face and how do you overcome them?
AW: With tintypes, it's usually chemistry or atmospheric conditions. We're lucky that Texas has a pretty stable, warm climate, but every once in a while a cold snap comes through and I have to rework my process to keep my chemistry shooting clean. Also, space limitations, I would love to have an enormous daylight studio one day.
CP: Where would you like to see your work/brand go from here?
AW: People ask about franchising Lumiere from time to time, but for now I'm more interested in refining the concept. I'm always looking for more editorial projects - portraiture mainly.
CP: What is one question you wish you would be asked in an interview?
AW: Would you like a coffee?
CP: If you could give one piece of advice to an aspiring artist, what would it be?
AW: Just go do the work. You'll never be 100% happy with it, but do it anyways, and try to improve every time you hit the shutter. I'm well over 4,000 tintypes down at this point, and there's only about 7 that I'm truly happy with. Which is exactly why I keep shooting.
CP: Anything else you'd like to share? Words of wisdom or inspiration?
AW: I just watched a documentary about Mat Hoffman, he said something along the lines of; 'If I die with a body that isn't completely wrecked, I'd feel that was a waste.' He's talking about doing ridiculous things on a BMX bike, but I think it rings true for a lot of creatives. Like Bukowski's 'Find what you love and let it kill you' - if there's something you have to do - you need to go do it, you'll go crazy if you don't.
Find out more about Lumiere Tintype here: LUMIERETINTYPE.COM